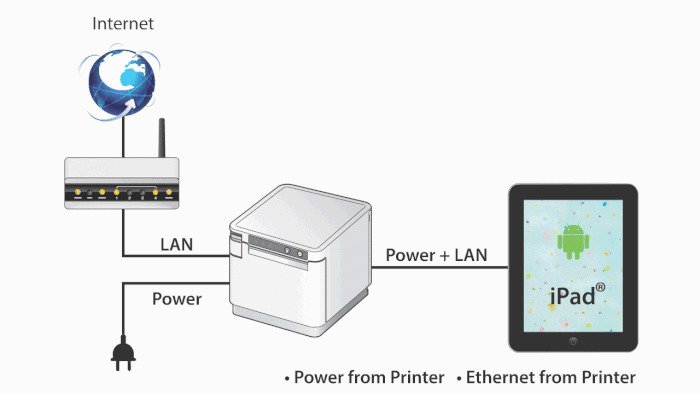 Say Goodbye To Unstable WLAN Signals
Direct data transfer between iOS, Android, and Windows devices and the printer via Apple Lightning or USB-C® cable
Direct Ethernet connectivity to devices from the wired Ethernet port of the printer
Device charging via Apple Lightning cable or USB-C® cable
Peripheral control (scanner, display) via printer USB host ports
Unique & Stable Connectivity
Star's unique SteadyLAN™ technology (patent pending) makes unstable Wi-Fi signals a thing of the past! SteadyLAN, available on certain mC-Print models and designed for iOS, Android, and Windows devices provides direct cabled control of the printer and attached peripherals, as well as Ethernet provision to the tablet, from the wired Ethernet port of the printer.

Features and Benefits
Direct Ethernet Connectivity to iOS, Android, and Windows Devices from the Wired Ethernet Port of the Printer

Device Charging via Apple Lightning Cable or USB-C®

Peripheral Control (Scanner, Display) via Printer USB Host Ports

Reliable network connection to iPad & Android POS.
Worry-free, charged tablet at all times.
Streamlined POS with all activity tethered to the printer.
Charge & Internet? No Problem!
For locations where Wi-Fi connectivity is not possible or unreliable, this new technology is a world-first, providing the stability of a cabled LAN connection for tablet POS systems. By connecting the SteadyLAN-compatible printer to the Internet via wired LAN and connecting the printer and a tablet with a Lightning-USB or USB-C® cable, the device can use the Internet without Wi-Fi communication. At the same time, the tablet can communicate with the printer via USB or LAN and can be charged from the printer.
Software Supported
Model Supported
mC-Print 2

mCP21LB Model [SteadyLAN for iOS]

mC-Print 3

mCP31L Model [SteadyLAN for iOS]

mCP31LB Model [SteadyLAN for iOS]

mCP31C Model [SteadyLAN for Android, Windows]

mCP31CB Model [SteadyLAN for Android, Windows]
Hardware Configuration
SteadyLAN can be used by updating the printer firmware to version 2.3 or later, which is available free of charge via mC-Print Utility application.