4 Reasons to Switch to Star CloudPRNT
as an alternative to Google Cloud Print
As we are sure many business owners are already aware, Google Cloud Print will no longer be supported after 31st December 2020. This is no doubt disruptive to many businesses that use this service and, as the date looms ahead, it is important to switch to an alternative Cloud printing solution.
Cloud printing is a key part of keeping operations such as restaurants, takeaways, click and collect and warehouses organized and running smoothly. If you're a developer of web-based point of sale software or a business using Google Cloud Print with receipt, label or ticket printers, Star is pleased to offer Star CloudPRNT™, which is not only a replacement for Google Cloud Print in these environments but also offers additional key features specifically designed for printing to smaller format receipt and order printers. Star CloudPRNT is complimentary with any compatible Star printing product.
Print From Anywhere To Any Connected Printer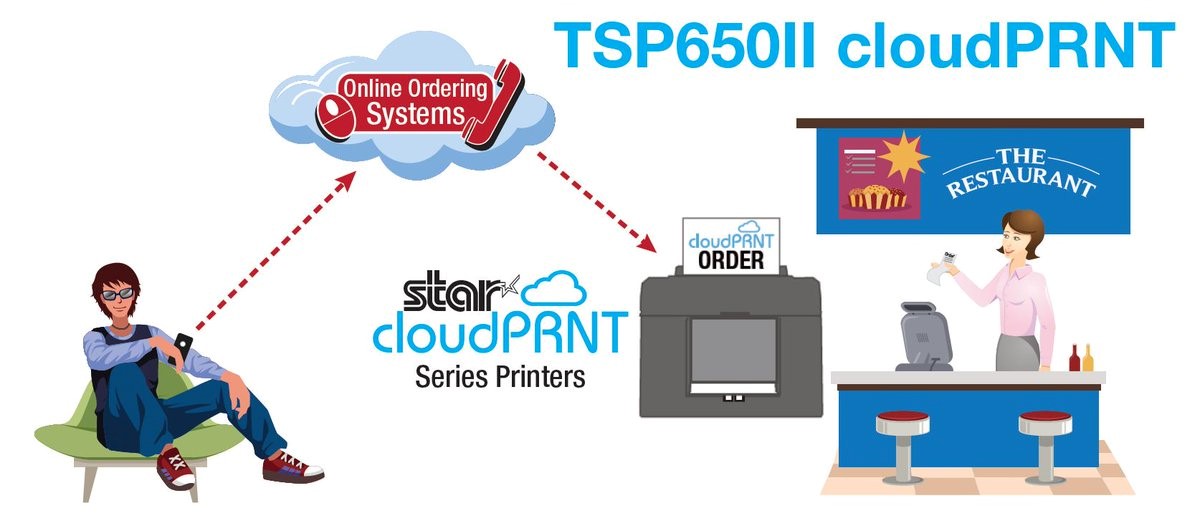 Star's CloudPRNT technology allows for secure remote printing directly from web servers straight to the printer, regardless of the printer's location. CloudPRNT works with web-based applications to deliver print jobs and communicate status with the printer. Cloud POS services post information using a JSON format, while the Star CloudPRNT printer pulls this information at defined intervals. A tablet or POS system in store to send information to the printer is no longer necessary, which simplifies the process. This is ideal for click and collect services or restaurants and takeaways operating an online ordering system, as the ordering service is able to directly communicate with the printer. Additionally, service providers and store owners don't need to maintain an SSL certificate for CloudPRNT printers since the printer communicates with the server as a client.
Connect Peripherals for a Fully Functional POS System
CloudPRNT communicates directly with the server and is able to control different peripherals connected to the printer, such as cash drawer, scanner, digital display for retail and buzzer alert which is ideal for kitchen environments. This enables a versatile POS system, capable of operating in a variety of different environments. Additionally, merchants are able to print to Star ticket and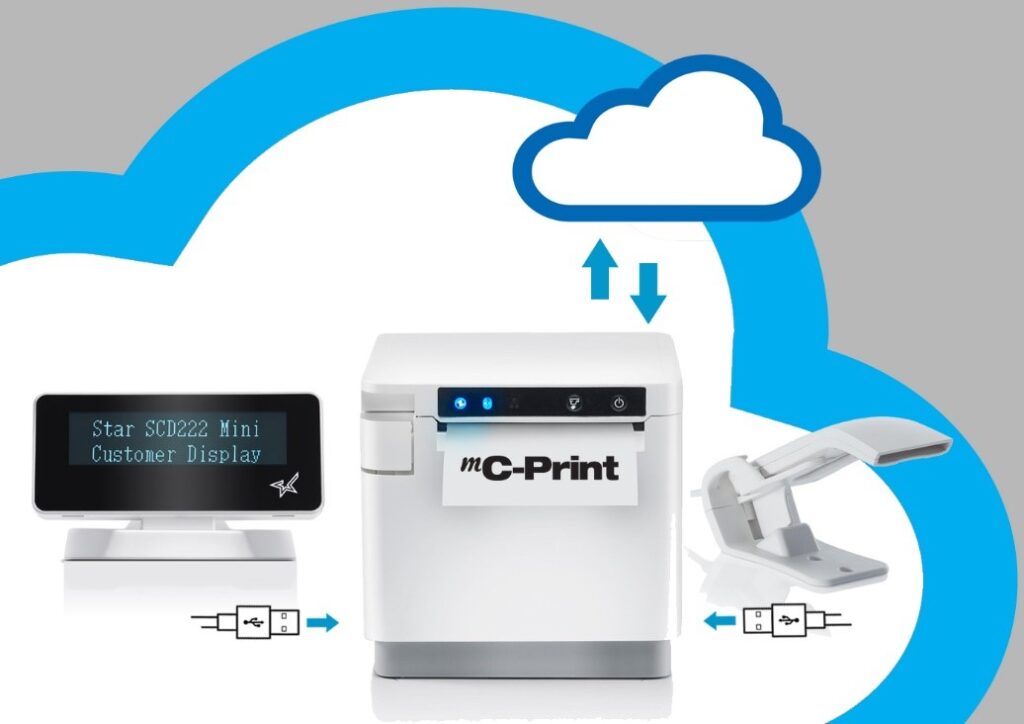 label printers using CloudPRNT which will automatically align each print-out correctly for increased accuracy in a store, warehouse, restaurant or unattended kiosk environment.
Included with compatible Star Products
STAR CloudPRNT is compatible with the product as below.
CloudPRNT is also included with Star's new TSP654IISK HIX cost effective, eco-friendly direct thermal linerless repositionable label printer. All are able to be easily integrated into existing web and cloud-based software and apps for a simple solution to allow businesses to seamlessly integrate online transactions into their operations.
Easily Integrated into POS Software
Star CloudPRNT is simple to integrate into POS software and supports native and web based point of sale system software. CloudPRNT can be hosted by the solution provider or independent software vendor and is able to be built into the software in the desired languages. Star offers a CloudPRNT SDK with features able to assist with status decoding, print job media format negotiation as well as print job conversion, and includes a number of specific tools to assist with integration. Star has also developed a free CloudPRNT for WooCommerce plug-in to simplify integration with WooCommerce sites.
If CloudPRNT feels like the right choice to replace Google Cloud Print then why not contact STAR today to find out more.