1. Star mC-Print 3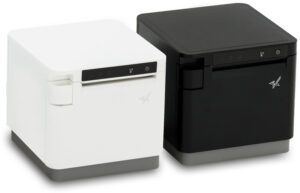 Star Micronics mC-Print 3 is 3inch(80mm) paper size has front loading paper and front-exit thermal printing with cube designed, compact size and fast printing. The mC-Print 3 has included protected main logic board and water splash proof, can be access to cloud solution and USB peripherals such as cash drawer, scanner and customer display. The mC-Print 3 can be supported any restaurant or retails application.
2. mPOP Combination System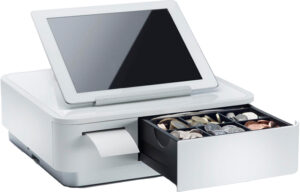 The mPOP (Mobile Point of Purchase) is the first printer which is printing 2inch(58mm) paper size and combines printer & cash drawer together. Fully integrated designed works with any tablet or mobile device. Compact design is perfect for specialty retail environments, such as boutiques or salons.
3. Star mC-Print 2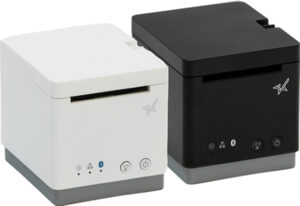 Star Micronics mC-Print 2 is a front-exit thermal printing with compact design and stylish for the business that using POS System, tablet solution, cloud solution or web-based printing. The mC-Print 2 is a printer which is supported 2inch(58mm) paper size, also designed for easy to paper loading and have five interfaces and multiple connectivity options deliver ultimate flexibility.
4. Star TSP100III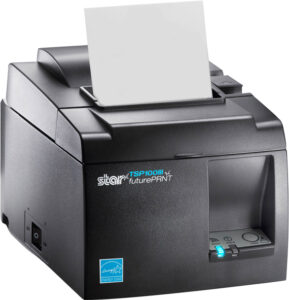 Star's TSP100III Series was created to improve connectivity problems from business owners. Star TSP100III delivers a simple reliable directly connection for iOS devices via USB connectivity. And has been installed with internal power supply. This sleekly designed Star receipt printer is spotlight-ready and looks beautiful on a counter in a restaurant and retail environments.
5. Star SP700 Dot Matrix Printer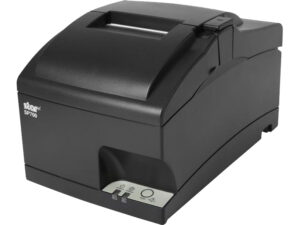 The SP700 Dot Matrix Printer is a reliable receipt and kitchen printer for retail and hospitality applications. And designed for easy paper loading, compact vertical and horizontal printing. It's splashes resistant and easy-clean design along with options such as two-color printing, wall mount bracket and integrated buzzer alarm option mean that the SP700 is ideally suited as a robust hospitality printer in bar or kitchen environments.
6. Star BSC10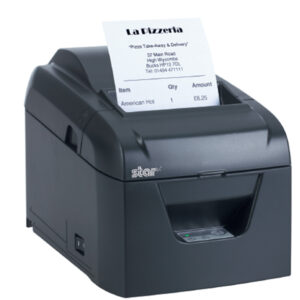 Star's BSC-10 is an affordable, high-speed, direct thermal receipt printer. Available with Ethernet connectivity with its simple design and lever-free paper loading, this printer is designed to outperform the competition in retail and hospitality environments. It's high-speed processing of receipts (250mm/second), as well as, a dual interface and ability to fit a 10cm paper roll makes it the first choice for retailers and hospitality operators globally.
Best printer makes your business be better, isn't it? There are several printer options suited for a variety of retail, restaurant, and hospitality locations.
>> Download Digital Leaflet <<

For more information contact Star now on
sales@star-m.co.th | Tel: +66 (0)2258-4631 | www.starmicronics.co.th